Connect With Montessori Compass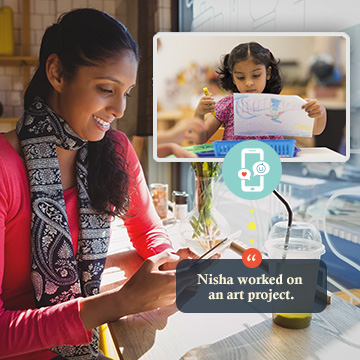 Amazing things happen every day in our classrooms and we want to be certain that you don't miss a thing. Montessori Compass, a unique online resource, provides all the access you want.
Montessori Compass is an online platform that features impressive functionality and a personal connection to your child's school. Some of the key features of Montessori Compass include:
Online Portal: Stay connected and access important school information whenever you want. You're able to view personalized information, relevant to your family.
Classroom Photos: View images of your child and their classmates at work in the classroom, enjoying their day, and discovering new learning opportunities.
Progress Reports: These highly customizable reports provide tangible evidence of your child's academic and social development in the Montessori classroom.
Materials, Photos and Descriptions: Learn all about the unique materials and classroom experiences your child is discovering, with this guide to authentic Montessori resources.
Montessori Compass can also be accessed with their mobile app, which makes engaging with your school simpler, easier, and faster for every family.