Montessori Careers
Join Our Team for an Authentic Montessori Experience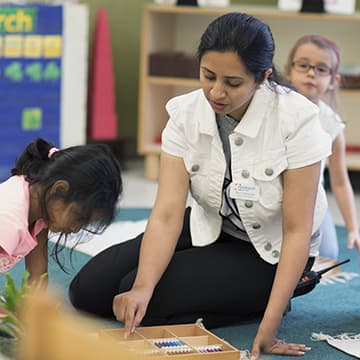 You are a lifelong learner. You believe the most important thing you can do every day is inspire others to realize their potential and develop a love of learning. You're looking to make a real difference.
We're seeking dedicated, caring individuals throughout our organization to provide an authentic Montessori education and experience for every child in our schools. It's a pretty great opportunity to build a career around something so powerful!
School Staff Roles
Teachers, Assistant Teachers, Lead Teachers, Food Specialists, Drivers, Etc.
School Management and Corporate Roles
School Directors, Assistant Directors, and numerous Corporate Roles
Montessori Unlimited is part of the Learning Care Group family of early childhood education centers, which also includes La Petite Academy, Childtime, Tutor Time, The Children's Courtyard, Everbrook Academy, Creative Kids Learning Center, U-GRO, Young School, and Pathways Learning Academy. With a corporate headquarters in Novi, Michigan, and more than 950 school locations across the country we're happy to offer team members great benefits, such as:
Opportunities for career advancement
Comprehensive benefits and compensation packages
Work environment that promotes collaboration
Company culture that inspires and encourages
Plus, payday, every day! Did you know any day could be payday? With the Daily Pay app, you can earn as you go! Track income with daily updates, transfer earnings instantly (or the next day), and automatically save a portion of your paycheck. Download the app to make every day payday—starting today!