Healthy Choices, Healthy Children
Nutrition and Fitness at Our Montessori Schools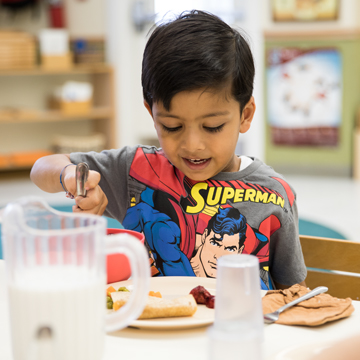 Our Montessori schools' unique Grow Fit® initiative ensures the complete well-being of your growing child through healthy living, nutritious eating, and physical fitness. The goal is to help children develop healthy habits for a healthy future.
Healthy Eating
It starts with healthy meals and snacks—no juice or fried foods. We're proud to serve:
Fresh fruits and vegetables
Foods with whole grains and plenty of vitamins
Foods free of artificial dyes
Low- or nonfat, rbST-free milk (whole milk for age 2 and under)
Vegetarian meal selections
Plus, weekly menus are approved by a registered dietician nutritionist. All servings comply with USDA portion size and nutrition requirements. All meals are served family style.
We're committed to each child's dietary needs, so we're diligent about allergy restrictions and religious beliefs. Please confer with your director should you need a specific food plan.
Veggies Early and Often
We're on a mission to help raise the next generation of veggie lovers. Did you know only 10% of children in the U.S. consume the daily recommended amount of vegetables? That's why our school has partnered with the Veggies Early and Often campaign led by PHA. Here's what we're doing:
We've added more vegetables to our menus.
We now offer two vegetables at lunchtime, each Friday.
We provide vegetable options for infants at breakfast and snack.
We encourage children to try new flavors, more than once!
In total, 26 different vegetable varieties appear on our children's menu!
Physical Fitness
Keeping children active is an important part of the daily routine. We're all about movement. We want children to take care of their growing bodies and develop their motor skills.
60 minutes of outdoor physical activity for children 2 years and under
120 minutes of daily activity (at least 60 minutes outdoors) for children older than 3
Nutritional Education
Teachers integrate healthy eating and physical activity into daily experiences, such as:
Sharing books that present a positive view of healthy eating and physical activity
Teaching health lessons, in subjects such as "energy balance," or how much food/calories eaten vs. what is used up by the body each day
Learn more about our authentic Montessori programs for every age.
Search our locations and find your local Montessori school, so your child can begin their Montessori experience.