Montessori Program for Toddlers
Educational Experiences for Toddlers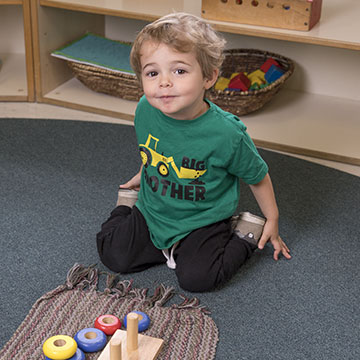 The toddler years are the time when children use their bodies, senses, and emerging problem-solving skills to learn about and make sense of their world, in ways most meaningful and effective for them.
Dr. Montessori was one of the first educators to recognize the first few years of a child's life as critical to the development of personality and intellect. Toddlers are actively seeking out information, they learn quickly and easily, and are especially interested in demonstrating independence. Our toddler classrooms allow them the freedom to learn as much as they can, as quickly as possible.
This is the time for children to explore and discover through active play, since children learn best by doing. In addition, our educators give toddlers responsive, individualized attention to help build skills in:
Sensory and Perception
Self-help
Language
Physical and Motor Skills
Social and Emotional Growth
Search for schools in your area to learn more about the programs offered at your local Montessori school.
Please note: Programs for younger children may not be available. Age for programs vary by location. Check with your local school.