Montessori Elementary Program
Montessori Elementary Education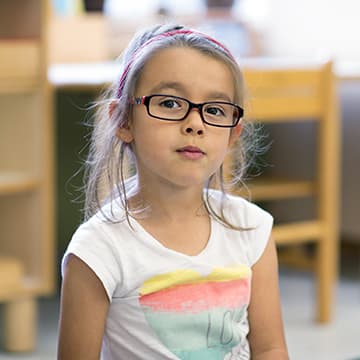 The Montessori Elementary school program develops unique, sensitive individuals. With a solid foundation laid in the Primary classroom, this is the stage at which your children are ready for abstract thought, which leads to mastering abstract concepts.
When children are prepared to move beyond the Primary classroom, we use the Montessori Method to provide a more structured approach and begin to facilitate for a successful transition to elementary school.
Students work in an environment that is conducive to learning courtesy, tolerance, and respect of others. They are taught to make decisions, use their time wisely, and see mistakes as an opportunity to learn. These are all skills they will need throughout their lives.
In the Montessori Elementary program, children are taught to express themselves and to self-teach by researching. Through research, they are able to share an abundance of knowledge with each other.
This early education program combines physical and emotional development with the traditional academic disciplines taught in all learning institutions:
Language Arts
Mathematics
Social Studies
Foreign Language
Geometry (Botany, Anatomy, Chemistry, etc.)
Science
Art
Music
This non-competitive environment fosters a love of learning and allows their natural curiosity to lead the way.
Learn more about the Montessori education.
Find a Montessori school near you to schedule a tour and learn more about enrolling your child.
Note: Ask your local school director about program availability.