Bethany Village Montessori
15188 NW Central Drive, Portland, OR 97229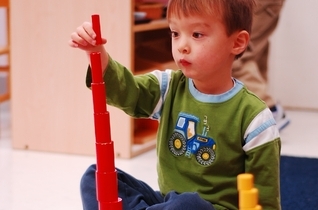 A Typical Day For A Child
Our school opens at 7 a.m. for before-school care. Our Montessori school day begins promptly at 8:30 a.m. for toddler and primary communities. Within the natural sequence of events in the classroom, children will be offered opportunities for individual lessons, group work, socialization, snack, gathering time, outdoor play and lunch. Each classroom follows the children's natural rhythms for the day. Montessori invites children to work uninterrupted for three hours and we call this a workcycle.

We offer half-day programs, where children have lunch with their peers, and leave at 12:30 p.m. The next flow of work for children who are over 4- years-old and prepared for a longer, more intense Montessori work cycle begins at 12:45 p.m.

Children who are not ready to participate in the longer work day are invited to our nap room, where they can rest or sleep quietly until 2:30 p.m. Our school day ends promptly at 3 p.m., after a snack. We provide after-school care until 6 p.m.
After School Program
Our after-school program is for full-time children enrolled at our school, infants-Kindergarten. The program is taught by our full-time assistant teachers who know your child, as they work with him or her during the Montessori school day. The afternoon program is filled with arts, science and free choice, similar to the Montessori work day. Each after-school class will spend at least 20-30 minutes outdoors everyday, so feel free to send your child's rain gear to school during the winter months.
After school Enrichment
Our school is proud to offer several different afternoon enrichment classes for children enrolled with us. We have KinderGym, drama, soccer and KinderMusic available at a separate cost.
Summer Camp
Join us in our Bethany Bus for 9 weeks of travel across the United States.

It's that time again-time to start thinking about Summer Camp! This summer we are excited to present our "travel" plans to visit some of the best State/National Parks and favorite Landmarks in the United States. During our virtual visits, we will discuss features of the parks, which will include landforms, animals and maps.

On our landmark visits, we will create most of them using art mediums, and for some will also make food that corresponds to where we are. We will offer both weekly and monthly tuition, so your child can join us for all or some of our travels! I have listed below just some of our stops on our cross country tour:

Weeks 1 - 3 will be travels through the West. We will start at the Space Needle, head to Crater Lake, work our way down through California, across the Golden Gate Bridge and into Yosemite. We may or may not see Bigfoot, and we will definitely pan for gold! Zion and the Arches and Canyon lands are where we will finish our tour of the West.

Weeks 4 - 5 will be travels through the Midwest. We will head into the Rocky Mountains, Glacier National Park and visit Mt. Rushmore. The Hoover Dam and the Grand Canyon will also be part of this tour. Some fun quick stops will include the Largest Ball of Yarn, seeing the world's tallest man, and maybe making a meal in the biggest skillet.

Week 6 - 7 will include a visit to the East coast. Heading into the Everglades, so send bug spray, over Niagara Falls and to the Statue of Liberty. Atlantic City and the Washington Monument are also on our list of things to see!

Weeks 8 - 9 will be in the South, where some of the best food and music come from. A quickie into Shenandoah National Park, a stop at Dollywood and the Smokey Mountains, and ending our trip at Graceland!