Blue Valley Montessori
11100 W 135th Street, Overland Park, KS 66221
Welcome to Blue Valley Montessori of Overland Park, KS
Thank you for visiting Blue Valley Montessori School in Overland Park, KS! My name is Dena Rutter and I have been the Director here since August 2000.

My interest in the Montessori philosophy was sparked while studying abroad with a young son enrolled in a traditional Montessori school in Germany. I fell in love with the Montessori approach and upon returning to the U.S., I found Blue Valley Montessori. I have been with the school for 13 years and hold a bachelor's degree in child psychology.

I take pride in our school and have high expectations for the quality of child care we offer. Our students range from toilet-trained 2.5 year-olds to age 6. We strive to provide a loving and consistent environment for children with an emphasis on academic excellence. We have grown into a very close-knit community over the years.

Many of our staff members have been with us since we opened in August 1999. Such longevity is an indication of everyone's dedication to our families and commitment to one another. We employ a group of extremely talented, creative and intelligent individuals who sincerely care about each and every one of our students. We participate in continuing education classes to ensure we are providing the best program offered in Johnson County. Our lead teachers are AMI, MEPI or AMS certified. Our staff is CPR certified as well as trained in first aid.

We host a variety of extra-curricular activities between the hours of 1 and 4 p.m. Currently, we offer Spanish, Karate, Soccer, Computer, FitKids and Ballet. These programs are designed for families to choose activities based on their child's interests.

The classrooms of Blue Valley Montessori school in Overland Park, KS hum with sounds of happy children. I believe this is a direct reflection of the love our staff have for the students. Blue Valley's family-style atmosphere and genuine appreciation for education sets us apart from other schools in the Johnson County area. Schedule a tour today to come see for yourself! We look forward to meeting you!
A Day In The Life Of Our Students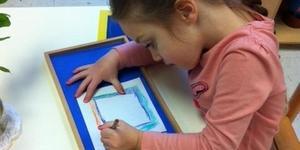 No memorization. No standardized tests. Learn more about how the Montessori philosophy of joyful learning helps to develop every child's natural interests in a safe, supportive environment.