Naperville Montessori
2936 Artesian Road, Naperville, IL 60564
Welcome to Naperville Montessori School of Naperville, IL
Thank you for considering our Naperville Montessori school in Naperville, IL for your family. My name is Denise Testin and, as the director, I look forward to telling you why we are the best at what we do. I have a bachelor's degree in elementary education and attended the Montessori Education Centers Associated (MECA) Seton Montessori Teacher Training Center. I have more than 17 years of experience as a teacher and manager.

I absolutely love what I do and am so proud of our school. As a former Directress, I feel I bring both experience learned while teaching in the classroom and my creative and open management style to our school. I consider myself a "people person" and enjoy interactions with parents, staff and all the students in our care. I enjoy sharing the very best early childhood education program with our community. It is a pleasure watching our students grow and become confident, self-disciplined and independent learners.

Naperville Montessori opened in 1999, with a commitment to provide a true, rich Montessori experience to our students. We have been doing just that for almost 15 years. Here, we believe a Montessori education is second to none when it comes to helping children be lifelong learners. Our programs offer exploration and learning in math, language, science, history, geography, botany, practical life skills, sensorial and art areas. We are full members of the American Montessori Society (AMS), the Illinois State Board of Education and the Association of Illinois Montessori Schools.

Our amazing team of teachers has more than 90 years of combined experience. They are committed to our students, parents and our school. All of our teachers and administrative staff are trained in CPR and First Aid.

Take time to stop in and learn more about Naperville Montessori School in Naperville, Illinois. I look forward to meeting you.

A Day In The Life Of Our Students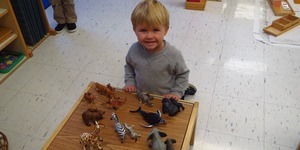 No memorization. No standardized tests. Learn more about how the Montessori philosophy of joyful learning helps to develop every child's natural interests in a safe, supportive environment.