Atascocita Montessori
19120 W. Lake Houston Pkwy, Humble, TX 77346
Welcome to Atascocita Montessori School
Thank you for visiting Montessori in Humble, Texas. My name is Kathrina Gillespie and I am the Administrative Director. I have a bachelor of science degree and a Childcare Director's Certificate. I have worked with young children for over fourteen years and I really love the Montessori philosophy. Visitors to our Montessori classrooms are always impressed by how these young children progress at their own pace, select their own work, and learn so much by direct, personal, hands-on contact.

When you walk into Humble Montessori, you immediately feel a warm and inviting atmosphere. Our teachers, parents and administrators work together to make this the best possible place for your child's education.
Our school opened in 1999 and, since that time, we have been focused on providing the most complete Montessori experience possible. We have an excellent program with highly trained teachers with combined experience exceeding fifty years in the Montessori classroom.

Schedule a tour today of Montessori in Humble today!

A Day In The Life Of Our Students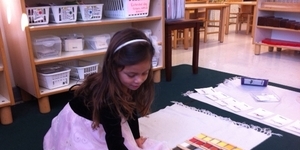 No memorization. No standardized tests. Learn more about how the Montessori philosophy of joyful learning helps to develop every child's natural interests in a safe, supportive environment.