Sugarloaf Montessori
2270 Meadow Church Road, Duluth, GA 30097
Welcome to Sugarloaf Montessori School of Duluth, GA
Thank you for visiting Sugarloaf Montessori in Duluth, Georgia. My name is Michelle Whaley. I have my AMI Montessori diploma and have been engrossed in the beauty of Montessori education for the past 20 years.

I love being the Director of this Montessori school. I have a natural love of children. I decided at the tender age of 4 that education was the field I wanted to be in. I am excited about seeing the curiosity and development in the children from day to day. Maria Montessori said, "A child's work is to create the man he will become." It is an honor to be a part of that journey with the children.

Our school has been in the Duluth area since 1999. Our Pre-Primary community consists of ages 14 months to 3-years-old. The directresses are Ashraf Meherally (14 months - 2 years), who holds an NAMC Montessori diploma and Bhavini Tailor (2 - 3 years), who holds an AMS Montessori diploma. They currently work together in the Pre-Primary community.

The Primary community (ages 2.5- to 6-years-old) Directresses are Susan White, Yvonne Barrett, and Heather Barich. Ms. Susan and Ms. Yvonne hold an AMI Diploma and Ms. Heather holds an AMS diploma. Our entire staff is First Aid/CPR certified and takes additional educational training annually.

Once you join us at Sugarloaf Montessori in Duluth, it won't take long for you to feel you are part of something special. Our Sugarloaf Montessori community has become stronger and stronger each and every year. We host many events throughout the school year that give everyone the opportunity to participate and to create lasting friendships.

We all work together to create a community for your child that fosters creativity, stimulates curiosity and allows your child to explore the world within a safe environment. Schedule a tour of Sugarloaf Montessori school in Duluth, GA today to see what we have to offer!
A Day In The Life Of Our Students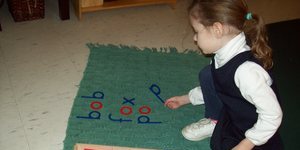 No memorization. No standardized tests. Learn more about how the Montessori philosophy of joyful learning helps to develop every child's natural interests in a safe, supportive environment.