Montessori at The Courtyard
2804 Central Drive, Bedford, TX 76021
Welcome to Montessori at the Courtyard in Bedford, TX
Thank you for visiting Montessori at the Courtyard located in Bedford, TX. My name is Amanda Ezell and I am thrilled to be the Administrative Director of this great campus where the pedagogy of Montessori methods is embedded into the learning environment. I have a bachelor's degree in Early Childhood Education and have experience both as an educator and a director.

I love being a part of the learning and fun that takes place here each day. Being part of such a nurturing, child-centered environment with supportive families and staff is truly the best part of the job. I love to hear the children say on their way out of the school, "Why did you have to pick me up early?" Or to see comfort and peace on parents faces as they leave their precious child with us. I have built many wonderful relationships with our parents over the years and truly feel like they are an extension of my family.

At Montessori at the Courtyard, you can rest assured that your child will be a part of a classroom community that recognizes that every child is unique; therefore, every child must be allowed to make choices and develop at his or her own pace. Your child will experience a rich, well-rounded environment where he or she can explore and repeatedly learn from a multitude of subjects such as culture, geography, math, science, reading, writing, botany, zoology and much more.

The classrooms have mixed age ranges where younger children can be mentored by older children and older children are given the opportunity to become teachers and leaders. You will witness an environment in which children learn through hands-on, multi-sensory activities in order to maximize their learning opportunities. There is also a focus on positive social development by teaching children how to solve peer conflicts, becoming more aware of the needs of others, and learning to respect boundaries.

Schedule a tour today to see the magic that takes place each and every day here at our Montessori school in Bedford, TX!
A Day In The Life Of Our Students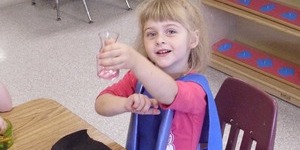 No memorization. No standardized tests. Learn more about how the Montessori philosophy of joyful learning helps to develop every child's natural interests in a safe, supportive environment.