Montessori at Brookstone
1680 Brookstone Walk NW, Acworth, GA 30101
Welcome to Brookstone Montessori in Acworth, GA
Thank you for taking the time to learn more about Brookstone Montessori located in Acworth, GA! My name is Linda and, as the director, I am happy to tell you a little about myself and our school. Brookstone Montessori has been in its current location for the past 25 years.

I hold an associate's degree and have more than 20 years of experience in early education and management. I have been in the industry for so long because I love the special relationships I have with the parents and students. There is nothing better than watching a child's excitement for learning in a Montessori classroom.

I manage our school as if everyone was an extension of my own family – the children, parents and teachers. I strive to create a warm environment every day, and we have an open-door policy, so families can stop in any time.

I have had the opportunity and pleasure to work with a team of dedicated and experienced teachers that have a passion for the Montessori philosophy of teaching. Our certified teachers have a combined 73 years of experience in the Montessori classroom and they are committed to each and every one of our students. Staff members take 10 hours of Early Childhood Development Training every year and everyone is certified in CPR and First Aid.

We value the relationships we have with our families and work hard to involve them. We offer a number of opportunities for our families to volunteer in the school.

Our classroom community is a carefully prepared environment with a complete set of Montessori materials necessary for an authentic Montessori education. It's the type of early learning experience you can't find anywhere else. Stop by today to learn more about Brookstone Montessori.

A Day In The Life Of Our Students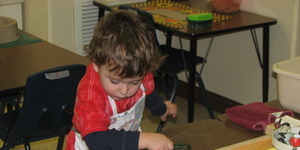 No memorization. No standardized tests. Learn more about how the Montessori philosophy of joyful learning helps to develop every child's natural interests in a safe, supportive environment.