Aurora Montessori
3180 N Aurora Road, Aurora, IL 60502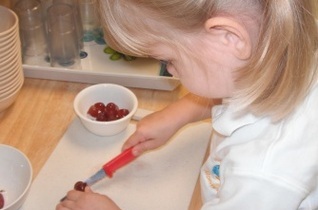 A Typical Day For A Child
At Aurora Montessori, the school day begins at 8:30 a.m. Many parents utilize our car line each morning, where the students are greeted by a teacher at their car door! As students enter their classrooms, they greet their teacher and friends, then begin their work by hanging up their outdoor gear, changing to their indoor shoes, washing their hands and selecting their first activity of the day. Montessori children are expected to follow their own inner guide and make independent choices from the wide variety of materials available to aid in their intellectual, social and emotional growth. The teachers, their friends, and the classroom materials themselves will all aid in helping the child choose and successfully complete each chosen activity.

A snack is always available in the classroom as an activity of choice. When children choose to have a snack, they are responsible for setting a place setting, serving themselves, enjoying the snack and then cleaning up the table, making the space ready for the next child. This practical living exercise is one that is chosen by most children every day!

Each day involves 20-30 minutes of outdoor playtime. Our school has a lovely backyard environment with room to garden, ride bikes, play basketball or soccer, as well as run and climb. The fresh air invigorates everyone for continued activities when we return inside!

Lunch is prepared fresh on-site each day and is served as part of all our morning programs.
Lunch - Practical Living: Grace And Courtesy
Dining together offers many opportunities for lessons in grace and courtesy as well as patience, attention to detail, and flexibility. Each student participates in setting the tables, serving the food, and clearing and cleaning the dishes and tables.

Our school offers vegetarian options each day, with fresh fruits, vegetables and whole grains regularly incorporated. Lunch discussions often include nutrition and healthy living topics. Those children enrolled for the half-day program are picked up through car line, which begins at 12:15 p.m.

At 12:30 p.m., our Senior Students gather in the Multi-Purpose Room for an enrichment activity while their younger friends enjoy a short rest period. When the Kindergarten students return to the classroom, all children are encouraged to resume their work. This extended work period concludes with our second car line, which begins at 2:45 p.m.
Before and After School Activities
Our school offers before- and after-school care for many of our students. Montessori activities continue during this time as well as additional outdoor time, crafts, and baking.