Aurora Montessori
3180 N Aurora Road, Aurora, IL 60502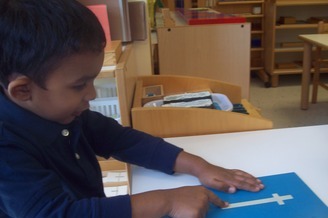 Programs
Learn Through Discovery at Aurora Montessori!
The Montessori curriculum and programs are based on the philosophy of world-renowned educator Dr. Maria Montessori. Each of our programs is designed to address the unique developmental needs of your child through an exploration of language, mathematics, spatial learning, music and art.
Dr. Montessori believed every child was an eager and willing learner. For this reason, Montessori teachers have an unobtrusive, supporting role in the classroom. Every child's learning is self-directed, based on that child's interests and abilities. It's not the traditional approach, but for many children, it's proven to be the best approach.
We invite you to learn more about our programs listed below and then to schedule a visit to see them in person.
Montessori Toddler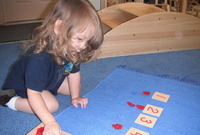 Our Stepping Stones classes are designed to introduce a child to the Montessori environment. We feature a small class size to facilitate greater interaction during this crucial period of development during which children focus on self-reliance. The class uses a specially prepared environment designed to help the child move toward independence, social awareness, respect, and the development of motor skills and language. The absorbent minds of this age group will also have potty training as a daily routine, observed and guided by the Montessori Directress.

Stepping Stones I is offered as a two-hour, two-days-a-week program for our friends 18 to 36 months old.

For our friends two to three years old, Stepping Stones II is offered as a four-hour class, and includes lunch. Children in Stepping Stones II will continue to be guided with potty-training as necessary. A school day extension is available for this class; children enrolled for the school day will be escorted to a napping environment at 12:30 p.m. each day. At semester breaks, Stepping Stones I children are given priority when registering for this class. The ratio in this class is 1:8. Before-school care may also available for this program.
Montessori Primary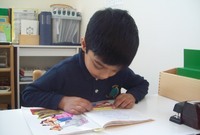 The goal of the Primary curriculum is to help the child develop mastery of self and environment as well as self-discipline and social competence. The children are encouraged to choose work for themselves, selecting from a variety of tasks which were designed by Dr. Montessori to address specific developmental and educational needs. Works are organized in the classroom by discipline including practical living skills, sensory perception development, mathematics, language, cultural subjects (biology, botany, geography, history and zoology) and the arts. Activity is orderly, which allows children to progress independently. Lessons in grace and courtesy guide the children's behavior. In this natural setting of mixed-age students, young children learn from older ones and older children develop leadership skills while reinforcing their own knowledge by working with younger children. Children in this program must be independent in the bathroom. The Primary program ratio is 1:10, and is offered for either a half-day experience or as a full school day. Before- and after-school child care is available.
Both of my children have excelled in their academic and social growth during their time at your school. The individual attention that was given to each child is evident. They enjoy school every day and we are so pleased to be part of the Aurora Montessori School family!
-J. M
Aurora Montessori School
Come Visit Us!