The Woodlands Montessori
1201 Many Pines Lane, Woodlands, TX 77380
Welcome to The Woodlands Montessori School of Woodlands, TX
Welcome to The Woodlands Montessori School of Woodlands, TX. I would like to take this opportunity to tell you a little bit about myself and our exceptional programs. My name is Cindy Saab and I have been with The Woodlands Montessori School for 27 years and have experience in both management and teaching. I also have my Child Development Associate Certificate (CDA) and my Director's credential.

I love watching children, from young toddlers to Kindergarteners, grow and learn to be independent. I value the relationships I have developed with our parents and treat everyone at our school as if they were an extension of my own family. We provide a caring environment and have an open-door policy.

Our school is the oldest Montessori school in The Woodlands. We opened our doors in 1986 and offer a true Montessori journey for our students. We have long-term, AMS/AMI certified Montessori Primary teachers with over 26 years of combined experience.
-Ms Caitlin, Lead Toddler Teacher, has a Child Care Specialist's Certification. She is very knowledgeable and experienced when it comes to toddlers.
-Ms Meher, Lead Montessori Teacher, is AMS certified as well as holds a Master's degree in Psychology.
-Ms Nirmeen, Lead Montessori Teacher, is AMI certified as well as holds a Early Childhood Degree.
-Ms Imba, Lead Montessori Teacher, is AMS certified as well as holds a Master's in Computer Application.

I am proud to say we have very little turnover, which provides consistency for our students. We are fortunate to have an outstanding staff dedicated to our children and families. All staff members are certified in CPR and first aid.

We also host many family events during the year and encourage our parents to participate. This includes our Fall Festival, Thanksgiving Dinner, Holiday celebrations, Egg Hunt, Mother's Day Tea, Father's Day Breakfast, and Parents' Night.

We look forward to having you tour The Woodlands Montessori School in Woodlands, TX. Call to schedule a visit today!
A Day In The Life Of Our Students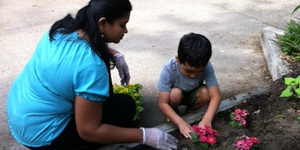 No memorization. No standardized tests. Learn more about how the Montessori philosophy of joyful learning helps to develop every child's natural interests in a safe, supportive environment.