Preston Meadows Montessori
6912 Ohio Drive, Plano, TX 75024
Welcome to Preston Meadows Montessori School!
Welcome! My name is Nancy and as the Director, I'd like to take this opportunity to tell you a little bit about myself and Montessori in Plano, TX! I have a bachelor's degree as well as Montessori Certification from Montessori Education Programs International (MEPI). I have more than 20 years of Montessori experience as both a teacher and director. I love interacting with our families and seeing the children grow and develop into lifetime learners. In fact, part of what I enjoy most about being a director is the personal relationships I develop with our families.

Here at Plano Montessori, I work hard to create a warm environment and we have an open-door policy all day, every day. We foster a comfortable, home-like atmosphere for our children to learn. Since opening in 1987, our school has been a "home away from home" for many families in Plano. It a pleasure for us to watch our children grow, as well as to welcome their younger siblings to our school.

More than half of our teachers have over nine years with us, and they have more than 60 years of combined experience. They participate in ongoing training to ensure they are up-to-date.

I hope you will give us a call to learn more about Montessori in Plano. We would love to welcome you into our Montessori family!
A Day In The Life Of Our Students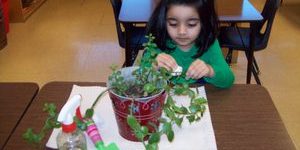 No memorization. No standardized tests. Learn more about how the Montessori philosophy of joyful learning helps to develop every child's natural interests in a safe, supportive environment.